What you need to know: This is workshop # 2 and the second pitch by Bridge Development Group to push their intense desire to build a Distribution Center off of Foothill & Benson. The first workshop in June went like pure hell for them, when their plan was to build a ONE MILLION SQUARE FOOT monstrosity. Now Bridge Development is back with a scaled down version of this insanity on 51.33 acres, where they seek to break ground the first quarter of 2020. The featured image at the top of the article, is what Bridge did to the Fontana landscape so please show up, speak up and help your friends and neighbors protect the residential neighborhoods in Districts 1 and 3 on Monday night, October 21st starting at 6:30 PM at 406 N Euclid Ave in Downtown Upland. 
It is important to understand that Bridge Development Group will NOT be the end user, nor the tenant, nor the owner of this Distribution Center. Bridge is a land developer who's bread and butter is constructing massive warehouses and distribution centers in any town stupid enough to let them do so. Here is what Bridge did to the Fontana landscape. What Bridge Development hopes to do in Upland, is break ground in the 1st quarter of 2020 and take 8 months to complete the logistic center warehouse hub. Bridge expects the Distribution Center to open and be operational in mid 2020. The height of this massive monstrosity, will substantially limit or completely eclipse the views of Mt Baldy for any residents living below Foothill Blvd in District 3. Watch the video below to see what Bridge Development did to the ruin Fontana's landscape forever.
The video above shows in a time lapse format, how much heavy equipment will be brought into this site just to build this massive structure! The traffic in this area trying to access the 210 freeway is already horrendous! What the hell is our city doing listening to a second presentation by these developers? Bridge's Fontana Distribution Center in the video above is 878,839 Square Feet on 42 Acres. What Bridge proposed to do in Upland at their first workshop on June 17th, was to build a 1,000,000 SF Distribution Center on 51.33 acres next to Lowes near the intersection of Benson & Foothill Blvd.
The general public showed up at that first workshop in June and raised holy hell! Now Bridge has scaled back their site plan (for now) and it includes a 276,250 square foot Distribution Center that will be 4.3 stories tall. That's approximately 47′ feet high! The 276,250 SF building itself will cover 6.34 acres of land, as each acre is 43,560 sq. ft. in size.
Now let's add another 1,486 parking spaces for the delivery vans and automobiles, not to mention the 120 loading spaces for UTR's = Utility Tractor Rigs! This site will be utilized by 18-wheelers able to carry 80,000 lbs which are up to 65′ feet long. The agenda packet for Monday night, October 21st also states there will be 25 dock-high loading spaces around the building!
Bridge describes their new land plan as encompassing 22.22 acres for their "building site area" which I presume to be the 6.34 acres for the 276,250 sq. ft. distribution center itself + 15.88 acres for their associated parking and truck loading spaces. The agenda packet describing this activity can be seen HERE! 
Let's do the math shall we? Because 22.22 acres x 43,560 square feet per acre is 967,903 square feet of impervious surface space. Impervious surface spaces are concrete, asphalt, sidewalks, building rooftops and anywhere water will run off the site from because the water can't be absorbed back into the earth.
967,903 FEET OF PAVEMENT, CONCRETE, ASPHALT & ROOFTOP, ALL IMPERVIOUS TO ABSORB RAINFALL! 
HEAVEN FORBID UPLAND GETS ANY RAINFALL AS FOOTHILL BLVD COULD EXPERIENCE A FLASH FLOOD FROM 1,000,000 FEET OF RUN OFF!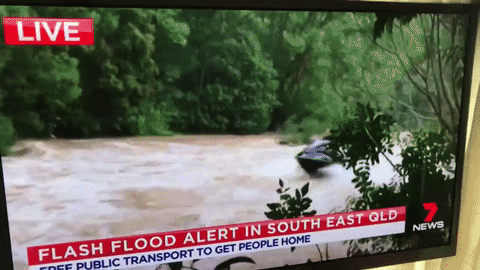 Bridge describes out of the total 51.33 acre tract below, that 22.22 acres will be "building site area" with 28.03 acres remaining for auxiliary parking space! If Bridge also paves that 28.03 acres of auxiliary parking space, then that's 2,188,890 SQUARE FEET OF IMPERVIOUS SURFACE SPACE! 
The In-N-Out located on Foothill Blvd above should sue the city and the developer if this is approved because someone is going to get killed by the semi truck traffic, while playing frogger trying to get in and out of that popular restaurant!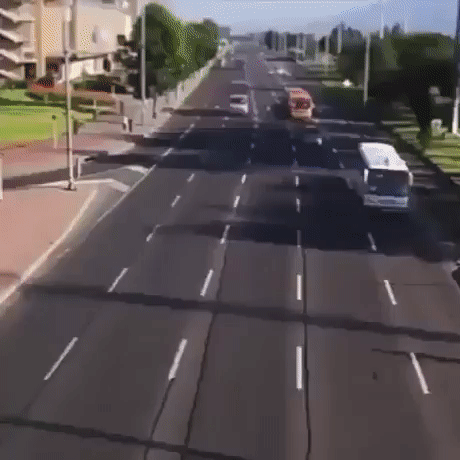 Montclair and Claremont will also likely sue Upland, because Upland and the developer are now proposing forcing all of the 18 wheelers down Foothill and onto Central because the residents living off of Benson in Upland, are absolutely furious! Bridge Development is now saying they will restrict the truck traffic to having to use only Foothill and Central to gain freeway access, in addition to Upland's 13th Street, yet Bridge has not been granted permission by Claremont and Montclair to flood their city streets, with Upland's 24/7/365 truck traffic from this location.
Don't you think residents in those cities will go ballistic when they find out what Upland and Bridge are planning to do to them? Don't you think Claremont and Montclair, will likely sue the City of Upland? Don't you think Upland will have to resend the no Benson truck traffic promise in addition to, being totaling unable to enforce it? Is there going to be a UPD officer at the stop light on Foothill and Benson, ticketing all tractor trailers entering and exiting the Distribution Center 24 hours everyday?
WELCOME TO THE NEW UPLAND!
If you don't think 18 wheelers will use Benson to get in and out of this site, you must also believe the City of Upland WILL NOT permit 5G cellphone antennas in any single family residential zoning district, simply because our Community Development Director Robert Dalquest, promised our city council members that would be strictly prohibited too! Keep in mind, that Robert Dalquest will also be the guy on Monday night (10/21), who will promise everyone in attendance that trucks won't be on Benson either! Let me show you how well Robert Dalquest keeps his promises!
Listen to Robert Dalquest in the video below from 6/10/19, assure our city council members after 356 residents had signed a petition and emailed them directly, that NO 5G CELLPHONE ANTENNAS WOULD BE PERMITTED IN: 
#1. ANY SINGLE FAMILY RESIDENTIAL ZONE! 
#2. ANY SINGLE FAMILY RESIDENTIAL SPECIFIC PLAN DESIGNATION! 
#3. OR IN THE THE SCENIC CORRIDOR OVERLAY ZONE, WHICH ENCOMPASSES THE LENGTH OF EUCLID AVE!
Guess where the 5G cellphone antenna in the picture below was recently installed? It is in a Single Family Residential Zoning District, as well as, it is also within the Scenic Corridor Overlay Zone on Euclid Ave! That scenic corridor is described in the Upland Municipal Code as "The SC overlay zone includes all lands within 250 feet of the centerline of Euclid Avenue.'" As you can see in the pictures below, both sides of Euclid Ave & 17th St are zoned either RS-15 or RS-20 and anything starting with an RS, stands for Residential Single Family. Yet, there is a 5G cellphone antenna on the corner of EUCLID AVE & 17TH TODAY! The damn thing is buzzing so loudly, it is audible over street traffic in a video a resident made for The Upland Report this weekend!
Residents are flooding the Upland Report with locations, pictures, videos and number phones from 5G cellphone antennas in RESTRICTED RESIDENTIAL LOCATIONS FROM ALL OVER THE CITY! The phone number from the 5G cellphone antenna on Euclid and 17th is 866-639-8460! When you call that number you are connected with Crown Castle Small Cell Network Operations Center and their employees, make you email scn.noc@crowmcastle.com when you inquire about the date it was installed and for which carrier? Knowing that more small cellphone antennas have to be installed every 3 to 10 homes away from this one to work, you can start following future installs on these residential streets! Google Earth shows this 5G cellphone antenna is 70′ feet away from the home on the left, 79′ feet away from the home on the right and only 55′ ft, from the center-line of Euclid Ave! Thanks Robert Dalquest, FOR FAILING TO PROTECT US!
This slideshow requires JavaScript.
Dalquest has either lied to our city council members on May 13th, May 28th and June 10th, or he has lost ALL CONTROL OF THE PERMITTING PROCESS! That is exactly why The Upland Report and hundreds of Upland residents have demanded that Dalquest amend Section 17.40 of the Upland Municipal Code and relinquish the permitting power of all 5G small cellphone antennas to the Upland Planning Commissioners. That ensures public hearings and notification of the general public! At least then the public can keep up with the proposed locations from the applications seeking to install 5G cellphone antennas on our city street lights and utility-poles, as it would require every applicant to become an agenda item for our planning commissioners to approve at a public hearing.
Had Dalquest simply amended Section 17:40, the 2 homes in the pictures above now next to a powerful 5G millimeter wave cellphone antenna, would have been given written notice of the pending public hearing. Instead, they got nothing and likely don't know what that even is! Had it gone before our seven planning commissioners, there would be a vote to approval each specific cellphone antenna location. Plus, I believe the seven commissioners and the general public, would have caught any proposed locations which our council members sought to restrict, prohibit and protect by their June 10th VOTE! Dalquest promised to amend Section 17:40 of the municipal code 5 months ago on 5/28/19 and turn the permitting over to the planning commission. To date, Dalquest has failed to do this simple thing and these installations where council clearly attempted to protect our residential neighborhoods, are happening with zero notification and zero adherence of what our council voted to prohibit on June 10th!
Right now, anyone can walk in and get a permit from Dalquest or the Public Works Department and no one else knows where the hell these cellphone antennas are going and DALQUEST AND PUBLIC WORKS ARE NOT ENFORCING THE RESTRICTIONS ADOPTED ON JUNE 10th, 2019! So, don't think for one minute that Robert Dalquest can and will stop a fleet of semi trucks working around the clock, from driving up and down Benson Ave to get on and off the 210 Freeway! Because he can not and he will not! 
Furthermore, residents are alleging the 51.33 acres where the Distribution Center is being "proposed" is already being graded and multiple pissed off residents have filmed and photographed various construction activities taking place at this site! Multiple residents have alleged this is being done without any permits from the City of Upland whatsoever. These residents claim Upland is also conducting no code enforcement to halt said construction activities. Residents have taken to social media to post complaints they have filed with multiple state agencies and are asking other residents to contact the state agencies below, as they claim the City of Upland is doing absolutely nothing to stop any of this un-permitted construction activity in this area.
There are so many unknowns regarding this monster venture at this time, it is simply unbelievable Bridge is even getting a second opportunity to sell this to our city council and planning commissioners, again. Bridge does NOT own the 51.33 acres where they are planning to build this. It is my understating the land is owned by a family in Beverly Hills, who does NOT want to sell their property and instead, they have opted to enter into a long term land lease. With any such land lease, any improvements made during the life of the lease including all buildings, will become the property of the land owner, once the land lease expires.
So at some point in the distant future, in theory, the Beverly Hills owners will get tens of millions of dollars in improvements made to their property, without paying a cent for those buildings! That fortune will be made at the sole expense of Upland residents. Now that we know Bridge is NOT the property owner, nor will Bridge be occupying the Distribution Center that they will build, the questions that needs to be asked are who will be running this facility, who will be the tenant and what will they be shipping in and out of the heart of Upland 24/7/365?
Bridge at the first workshop in June, said they have no tenant at this time! They did say they anticipate assigning their land lease to someone else, who will want to occupy the Distribution Center after it is complete. So today, we have no clue who that someone else will be. So in essence, this is a speculative construction project, with no known end user at this time. With the size of the building it will very likely have to be open 24 hours a day, especially to spread out the intense semi truck traffic.
The truck drivers will likely be 1099 subcontractors who will very likely, not be Upland residents. Also very likely, this project will bring in scant sales tax revenue to the City of Upland because the point of sale for what will be shipped out from the Upland Distribution Center, will likely be from somewhere else like a place with a lower sales tax rate…wink, wink. So right now, we know nothing but a developer is trying to build a highly speculative massive Distribution Center on the corner of Benson and Foothill! We know whoever the end user will be, can expand and build a bigger facility in the future to expand their permitted operations. Bridge can make us no guarantees that will NOT happen. Bridge will be long gone by then and we will be left to fend for ourselves.
The exact location for this "proposed" MASSIVE DISTRIBUTION CENTER will be the 51.33 acres West of Benson, North of Foothill and incorporates 13th St and will be next to Lowes. The location of this property near the corner of Foothill and Benson, is on the borderline of Districts 1 & 3. This means semi truck traffic will disproportionally affect residents living in Districts 1 & 3, as 18-wheelers from this site attempt to access the 10 & 210 Freeways all day, every day and every night. Here is a link to the video from the 1st workshop meeting in June, so Upland residents can see what they're going up against in tonight's 2nd workshop. The public will be allowed to speak to our planning commissioners and city council members, to formally object and protest this insanity. Please consider attending this very important meeting. You can also email the council members below, to protest the proposed 50 acre project.
janiceelliott4upland@gmail.com, billveltoupland@gmail.com, rudy4upland@gmail.com, ricky@rickyfelix.com
Be sure to check back soon for another Upland Report about what happens at tonight's highly contentious second workshop meeting. As always, thank you for reading the Upland Report and thank you for caring about our community enough to do so. Make it a great day and a memorable night Upland residents and FIGHT ON! 
---
Got a comment, question or suggestion, please use the contact form below.